Gender-Specific Programming for Women
OPEN TO CHANGE FOR FEMALES
This flexible, open group/open admissions program is available in a female version that speaks to the unique experience of women and substance abuse.

Click here for detailed information about this effective and flexible program.
SPECIAL TOPICS FOR FEMALES
The issue or topic areas below address some of the most frequent pathways to women's offending or similar life problems. Each resource set is tailored to help participants identify the nature of the risk these areas still present in their lives. It then provides a series of stages-of-change and MI-based interventions for group and individual work, helpful guidelines for staff to help identify and address specific issues, a clear set of behaviorally-stated objectives, and situational confidence assessments (SCQ)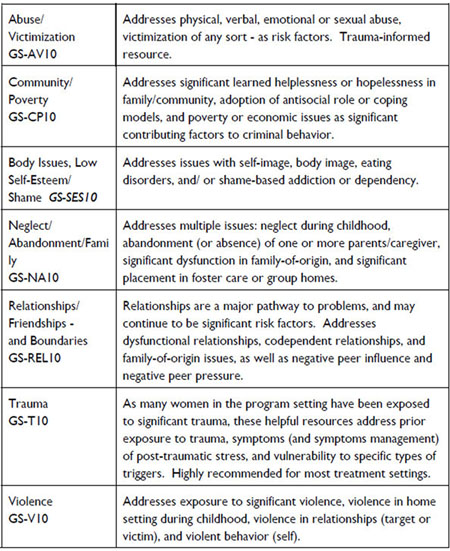 Additional Resources to address specific topics for women and young women: sex trafficking, running away, co-dependency, preparation for treatment, and women's turning points.

A New Freedom • © 1995-2022 A. R. Phoenix Resources, Inc. • All Rights Reserved •Any questions? Contact us!